Alumni Farmer Spotlight: How LaBria Lane Grows Community
LaBria Lane is building power and access in Michigan through farming.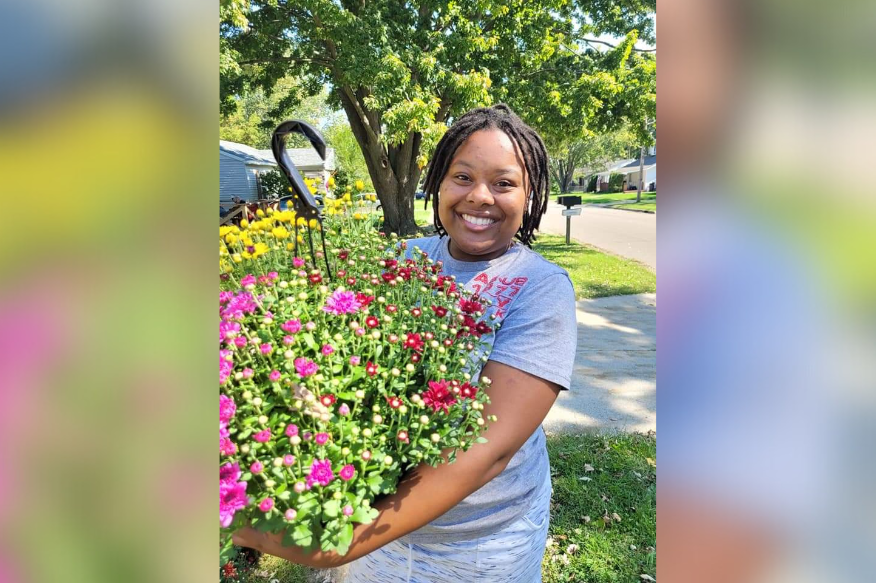 This month, we're featuring a few FoodCorps alumni farmers who are nourishing their communities. From small-scale farms to larger productions, these farmers' stories highlight the profound impact of local food on schools and communities. We hope their stories will shed light on the importance of the farm to school and local food movements.
Make sure to read our other stories about farmers who served with FoodCorps, including Pete Kerns and Natasha Hegmann, Molly Schintler, and Christopher Horne.
In 2018, LaBria Lane established MarySam's Gardens at the Women in Agriculture Farm Development Center in Grand Blanc, Michigan, as a small urban farm to celebrate her family roots. Growing up in neighboring Flint, LaBria helped her grandmother Jacqueline in her vegetable and flower gardens: spreading compost, planting squash and greens, cutting peonies for her favorite teachers. She also connected with her community there, playing with Jacqueline's best friends' grandkids among the plants and sharing freshly harvested tomatoes.
"These experiences were so important to me," said LaBria. "Although I didn't know it at the time, they shaped me to love the outdoors and gardening. And I discovered that I can eat all kinds of vegetables and can create access to fresh food right here."
In high school, she volunteered at Flint River Farm, a farm in downtown Flint. There, her first boss was a strong, resilient leader who became her mentor and best friend. She taught LaBria that farming could be a career option—and LaBria immediately decided that she would become a farmer.
"I'd never met a farmer before," she said. "If it wasn't for Flint River Farm and seeing other people farm, I wouldn't have found that passion."
Support and inspiration
LaBria heard about FoodCorps when she was 17 but was not sure if she would be a good fit with the organization. Three years later, she decided to take the opportunity to become a FoodCorps service member, and she served two years. She served four schools in the Flint Community Schools district, prioritizing food education alongside principals, teachers, and students.
"When I joined FoodCorps, I was working with kids just like me who weren't used to eating fresh vegetables until they were introduced to a garden," she said. "It was important for me to do for them what someone else did for me."
"That's the best thing about FoodCorps. That little shift improved my health, showed me a different career path, and changed my life."
After her service, LaBria found lasting connections with fellow FoodCorps alumni. At alumni retreats, she had space to develop and discuss new ideas. Thanks to the confidence and financial support she gained from these peers, she started her business.
Today, LaBria is a horticulturalist, and her operation is based in Burton, Michigan. The business honors her great grandparents Mary and Sam.
Serving Flint and its kids
Along her path to becoming a grower, LaBria found crucial grant funding through Michigan Food and Farming Systems (MIFFS) that allowed her to produce fruits and vegetables for four years. Despite COVID-19 pandemic challenges, LaBria grew her farming business and led after-school programs that cultivated appreciation for trying new vegetables—and tremendous excitement for growing food.
"Within 15 minutes, one first grader believed he could build a hoop house," she said.
LaBria also partnered with Michigan Women Veterans Empowerment to lead Dirt Therapy adventures; in a pop-up classroom, she taught kids of incarcerated and formerly incarcerated parents about plants, helped them harvest, and provided them with fresh take-home vegetables. And with MIFFS Women in Ag Network and the Midwest Women in Ag Community Education Series, LaBria engaged emerging farmers through workshops and webinars that offered education and support.
Tackling barriers to urban agriculture
While LaBria benefited from state grant funds, start-up barriers for her and other farmers are still formidable. Limited financial support is available for urban agriculture start-ups, which can include grants for drilling wells, constructing hoop houses, and education for hoop-house farmers. And local ordinances and regulations can create hurdles to constructing hoop houses.
Water access also challenges farmers. For example, if a farmer needs to dig a new well due to salinization issues in their existing well, legal issues can prevent that construction.
LaBria also experienced lack of support when interacting with the USDA office. "They don't do a very good job communicating when opportunities for funding were available," she noted. "Unfortunately, I've been overlooked or not treated fairly when utilizing services with the USDA."
And while LaBria's years of relationship development with schools and community leaders allow her to connect with and mentor students, fostering those partnerships can be a hurdle for newcomers.
"There's simply not enough funding for garden programs—or to support garden and nutrition educators," she said. This lack of support can lead to turnover and present difficulties in creating long-lasting programs and impact.
Farming for the future
LaBria recently expanded her garden with a hoop house, which she is converting into a greenhouse to grow flowers and vegetable transplants that she sells at farmers markets. And 2023 will bring construction of a new greenhouse to expand her operation.
She is also growing her work to beautify homes in Flint with plants. "You can't typically find plant material in small groceries in Black neighborhoods," she said. "Sometimes, you have to drive 10 miles to get flowers. We all deserve beauty, so how can I change that?"
This year, LaBria plans to expand her relationships with Black neighborhood groceries, providing them with fresh flowers, vegetable and herb transplants, and tropicals in the city where she grew up and discovered farming.
"Urban agriculture changed my life—it's inspired me to be a shining light for every kid in my community," she said. "And without an urban farm nearby, I wouldn't have experienced this change."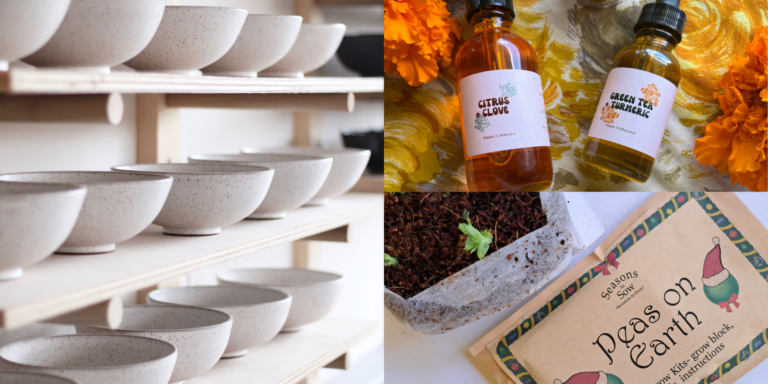 10 Thoughtful Holiday Gifts Made by FoodCorps Alumni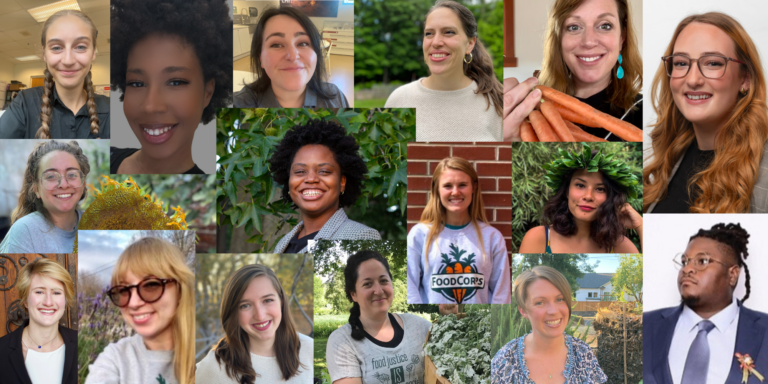 Introducing FoodCorps' 2023-2024 Alumni Advocacy Leads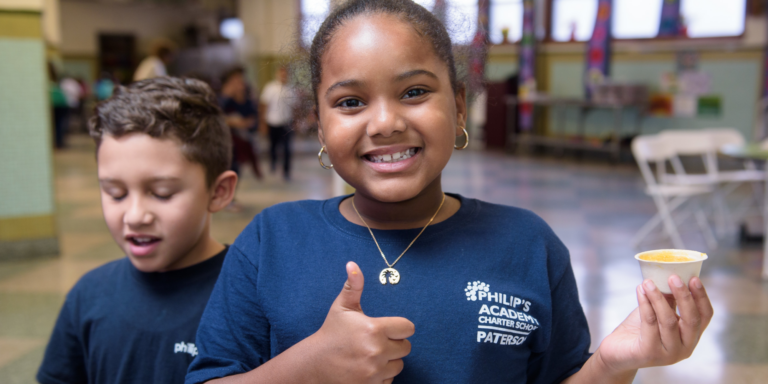 How to Prepare a Taste Test at Home With Kids