5 Delicious Kid-Friendly Fall Recipes to Cook Together
Try these fall-forward flavors on your next family cooking night.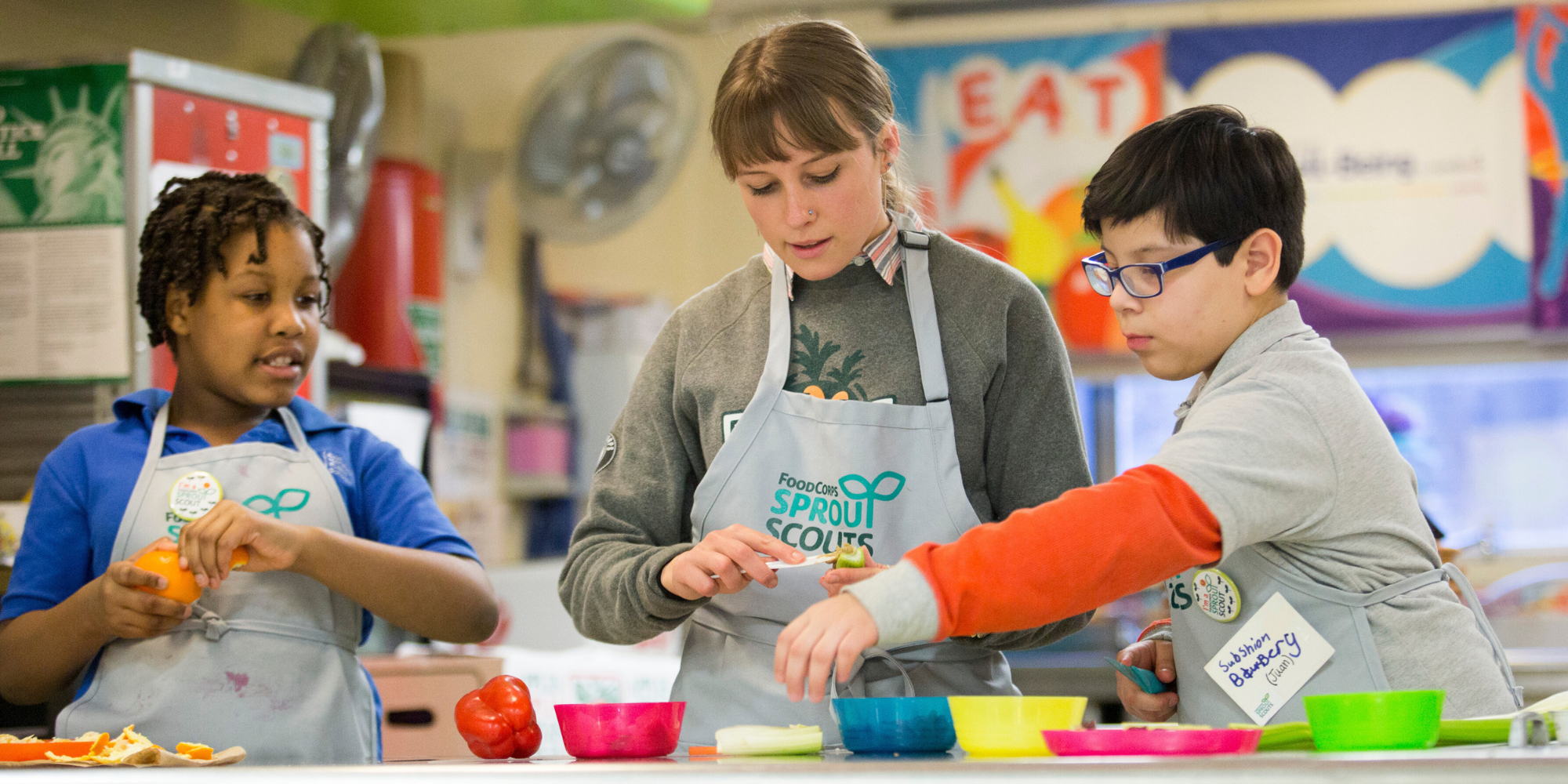 Fall is here, and with it a bounty of delicious, nutritious produce—perfect for cooking kid-friendly fall recipes.
Changes in the seasons are a natural opportunity to teach kids about where our food comes from. The freshest, most delicious local produce depends on your geography and climate, but in much of the country, the autumn months have lots to offer.
Fall Recipes for Cooking with Kids
These fall recipes are adapted from the FoodCorps Recipe Book, a tool our AmeriCorps members use when introducing students to new preparations of fruits and vegetables. Kids of all ages can help taste dishes and adjust for seasonings ("Does this need more salty or more sweet?") and older children may be able to assist with ingredient prep.
Try these fall recipes at home for an easy and delicious way to celebrate the season, and let us know which one is your favorite.
Note: The serving sizes listed in these recipes are tailored for younger appetites. If you're feeding grown-ups too, adjust accordingly!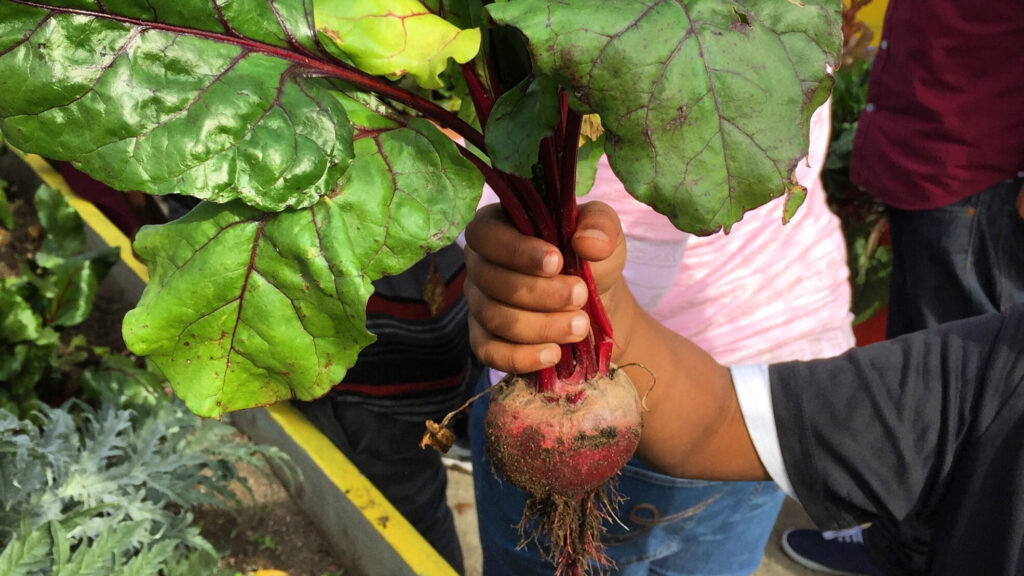 Root Fruit Slaw
Yield: Approximately 8 servings of ¼ cup
Storage: Store in the fridge in an airtight container for up to 3-5 days.
FoodCorps members cook Root Fruit Slaw with their students to teach them about the importance of storage root crops during the winter months. A tip for this and other fall recipes: Leave the tops of the carrots and beets on as a "grip" for grating.
Ingredients:
1 medium apple, cored
1 large carrot
1 large beet
Salt, to taste
Lemon juice, to taste
For the apple cider vinaigrette:
2 teaspoons apple cider vinegar
2 teaspoons honey
½ to 1 teaspoon lemon juice
1 ½ tablespoons olive oil
Salt to taste
Steps:
Whisk together vinegar, honey, lemon juice, and salt. Then drizzle in olive oil and whisk until emulsified (or shake in a lidded jar).
Wash fruits and vegetables and peel if desired, then shred each on the largest holes of a box grater, so you have roughly even amounts of each fruit or vegetable.
Mix each shredded ingredient together in a large bowl.
Combine shredded fruits and vegetables with vinaigrette. Taste and adjust with salt or more lemon juice or honey.
Sweet Potato Hummus
Yield: Approximately 10 servings of ¼ cup
Storage: Store in the fridge in an airtight container for up to 3-5 days.
This recipe is adapted from the New School Cuisine Cookbook.
Sweet potatoes are one of the fall's most abundant and delicious ingredients! Here, we're incorporating sweet potato into a fun hummus dip to round out a snack plate.
Ingredients:
1 pound sweet potato (about 2 large or 3 medium potatoes)
1 (15-ounce) can chickpeas, drained and rinsed (reserving bean liquid)
2 tablespoons orange juice or 2 teaspoons lemon juice
1 tablespoon tahini
1 teaspoon ground cumin
1 teaspoon ground ginger
1 teaspoon garlic powder
Salt to taste
Steps:
Preheat the oven to 425˚F.
Cut sweet potatoes in half, placing cut side down. Bake until tender, 30-40 minutes. Let cool and peel, then place in a large mixing bowl.
Purée chickpeas with bean liquid in a food processor until they reach a smooth consistency.
Combine chickpeas and sweet potatoes and add remaining ingredients. Use a handheld mixer or immersion blender (or stand mixer, if you have access to one) to combine ingredients. Mix until smooth and adjust seasoning to taste.
Serve with sliced raw veggies like carrots or cucumbers, pita chips, or tortilla chips.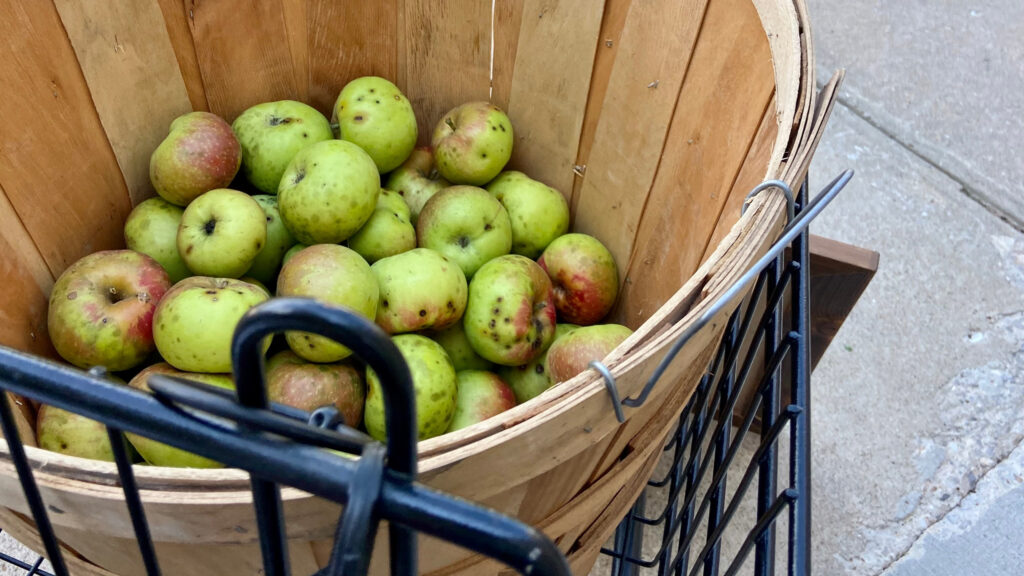 Applesauce
Yield: Approximately 8 servings of ½ cup
Storage: Store in the fridge in an airtight container for up to 3-5 days.
Use a variety of apples for a more dynamic flavor in this cozy applesauce recipe.
Ingredients:
5 apples of assorted varieties
1 teaspoon or more of cinnamon, to taste
¼ to ½ cup of water, depending on desired consistency
Pinch of salt
Optional: Juice of ½ lemon (1 teaspoon to 1 tablespoon, to taste)
Steps:
Wash, core, and chop apples into large chunks (you don't need to peel them).
Add all ingredients into a large stockpot and bring to a boil. Once boiling, reduce to a low simmer, cover the pot, and stir occasionally until apples are very soft, approximately 30-45 minutes.
Let cool slightly and then use a potato masher, or immersion blender if you have one, to achieve desired consistency.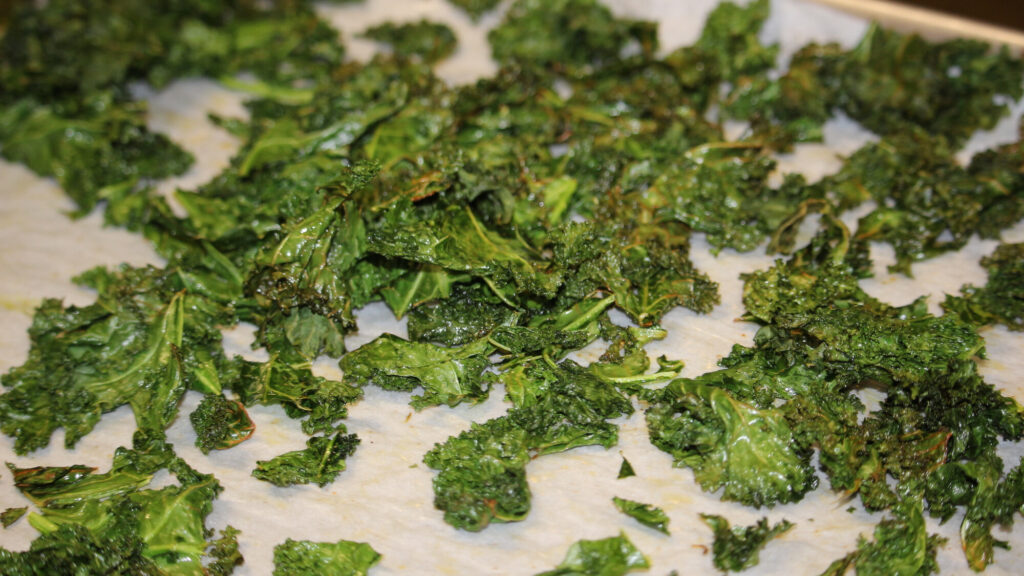 Spicy Kale Chips
Yield: Approximately 8 1-oz servings
Storage: Best eaten within 1-2 days, but can be stored in an airtight container at room temperature for 3-5 days.
These spicy kale chips help students to think through the flavors and textures of their favorite snacks and reimagine them as veggie-forward. Adjust the seasoning levels based on your family's preferences—or try to recreate the flavors of your favorite spicy snack chip!
Ingredients:
1 bunch kale
½ tablespoon olive oil
1 to 1 ½ teaspoon nutritional yeast, to taste
1 to 1 ½ teaspoon chili powder, to taste
½ teaspoon garlic powder, to taste
½ teaspoon salt, to taste
¼ to ½ teaspoon cayenne pepper, to taste
Optional: Juice of ½ lime
Steps:
Preheat the oven to 325˚F.
Strip the kale leaves from the stems and wash and dry well, using a salad spinner or rolling in dish towels. Tear large leaves into 2- to 3-inch bites.
Toss kale by hand with olive oil, salt, and your choice of spices, seasonings, or flavors in a large bowl, being sure each leaf is evenly coated.
Spread kale leaves evenly in a single layer on rimmed baking sheets, being sure not to crowd leaves so they don't steam.
Bake for 10 minutes, then check the kale. If the chips aren't dark green and crisp, continue baking in 2-minute increments. They'll brown quickly. Look at the underside when checking for doneness. Let cool for 2 minutes, and then transfer to a serving dish (or cool pan). If making ahead of time, re-crisp chips in the oven for 1 minute before serving.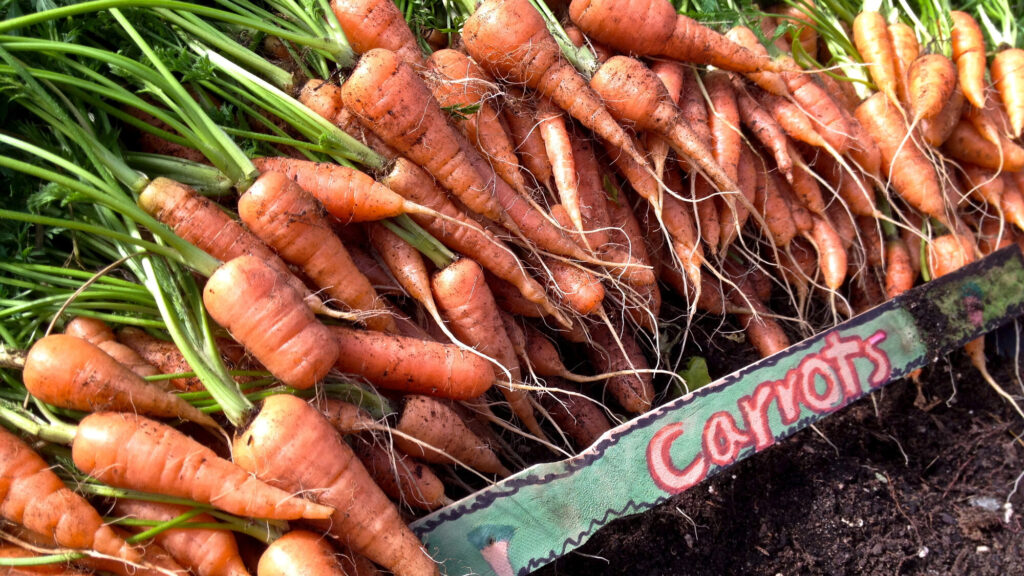 Roasted Carrots
Yield: Approximately 6-8 servings
Storage: Store in the fridge in an airtight container for up to 3-5 days.
You can customize this simple side recipe however you like to introduce your kids to new flavor combinations. Get creative and add spice when tossing carrots with olive oil, such as cumin, paprika, mild chili powder, or a curry blend.
Ingredients
3 pounds carrots, washed (about 5 cups cut)
¼ cup olive oil, more as needed
1 teaspoon salt, more to taste
¼ teaspoon pepper, more to taste
Steps
Preheat the oven to 450˚F.
If desired, peel carrots.
Cut carrots lengthwise into halves or quarters, depending on size, and cut into 2-inch segments. If carrots are small, roast them whole.
Toss carrots on a rimmed baking sheet with olive oil, salt, pepper, and any additional seasonings you'd like to try, and roast at 450˚F until tender and golden brown, 25 to 35 minutes, flipping halfway through. Let cool slightly before serving.
What are your favorite fall recipes to cook with kids? Let us know on social media @foodcorps!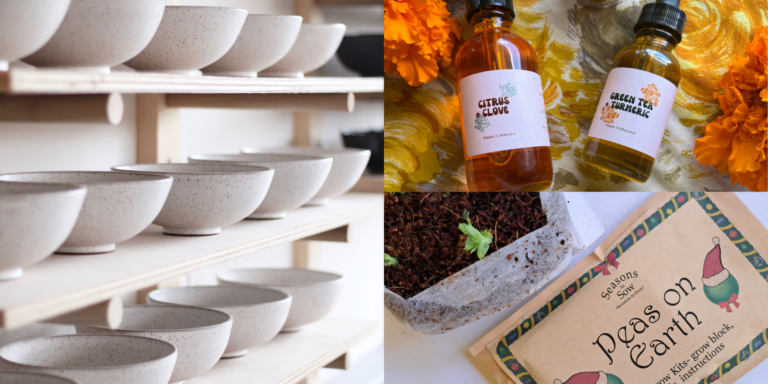 10 Thoughtful Holiday Gifts Made by FoodCorps Alumni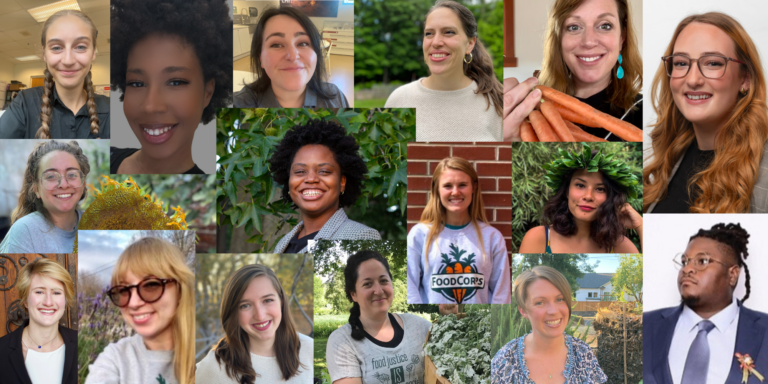 Introducing FoodCorps' 2023-2024 Alumni Advocacy Leads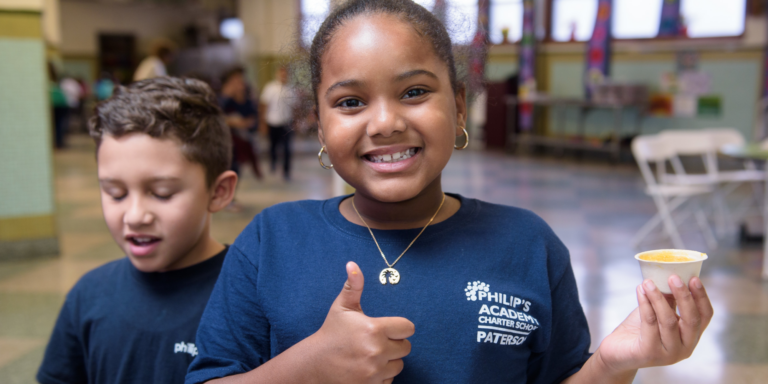 How to Prepare a Taste Test at Home With Kids